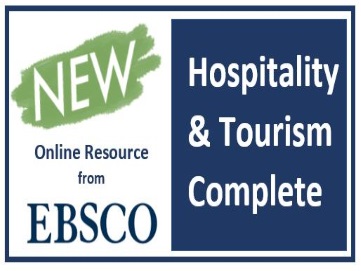 Access is now available to EBSCO's Hospitality & Tourism Complete database. If you are studying or interested in hospitality this database is for you.
This online resource is a trusted and unique full-text database covering all areas of hospitality and tourism, including hospitality law, market trends, food and beverage management and hotel management. In addition to hundreds of full-text journals, it provides magazines, company and country reports, books and newspapers.
Content Includes:
Nearly 500 full-text publications
More than 1.4 million records dating back to 1924
Subjects Include:
Culinary arts
Demographics and statistics
Development and investment
Food and beverage management
Hospitality law
Hotel management and administrative practice
Leisure and business travel
Market trends
Technology
View the full coverage list for Hospitality & Tourism Complete.
This database can be searched using this link: Hospitality & Tourism Complete and is also searchable using our discovery service Search + Find.