Students: Printing, photocopying & scanning
Printing, photocopying and scanning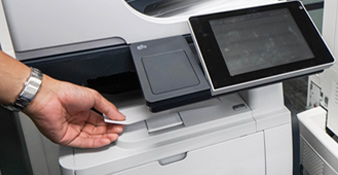 Printers, photocopiers, a credit kiosk and a change machine are available in the library.
Before you can copy or print you must first credit your account using the top-up kiosks.
Scanning is free using the photocopiers, there is no need to login simply select 'scanner' and manually enter an email address to scan to.
You can check your printing balance in two ways:
By logging into the top-up kiosks located in the Library print/copy room and downstairs outside the IT Centre. Once you have successfully logged in using your GMIT e​​mail address and password your credit balance will automatically be displayed.

You can also check your account balance from your PC by selecting the "show hidden icons" button on the taskbar at the bottom of the screen and selecting the Euro symbol.
All PCs located within the library are connected to a networked printer.
Printing Costs
A4 Black & White – 10c

Duplex Black & White – 20c

A4 Colour – 20c

Colour Duplex – 40c

A3 Black & White – 20c

A3 Colour – 40c