The Dawsonera eBook service will be switched off on Friday 31 July 2020 as the company has ceased trading.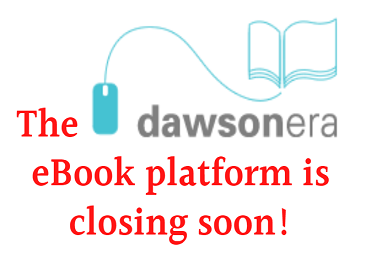 What does this mean to you?
The 200 eBooks titles we had access to via this service will no longer be available via the Dawsonera platform.
The Library are in the process of moving the titles to other eBook platforms.  Whilst this process should be seamless, in terms of the user experience, there may be a short interruption of access to the content while the eBooks are activated on other platforms.
What do you need to do?
If you have used Dawsonera eBooks and have saved notes, annotations or references that you wish to keep, please ensure you have downloaded these before the end of the day, Thursday 30th July, they cannot be transferred to other platforms.
To download your notes, go into the relevant Dawsonera e-book title and look for the Notes tab on the left. Then click Export. Your notes will be exported as a text file.
What the library is doing…
In addition to moving the titles to other eBook platforms.  The Library will update any relevant links in reading lists (Keylinks) and on the library's discovery service, Search + Find.
If you have any queries or require any further information or assistance, please email library@gmit.ie.